Discounts up to 10 cents per gallon!
Prompt Pay With 5-cent Discount
Choose either of these two payment methods to receive a 5-cents per gallon discount for paying promptly:
Pay your invoice by check or cash within 5 days of delivery.
Participating in our Budget Plan.
Sorry, COD customers and credit card payments do not qualify for the discount.
Auto Keep-Full Program With 5-cent Discount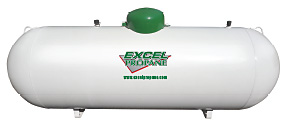 Enroll in our Auto Keep-Full Program to receive a 5-cents per gallon discount and have us automatically fill your tank.
Winter Price Protection
Price Cap Plan
Sign up for our Price Cap Plan and have price stability throughout the heating season. Our plan locks in your propane price to a maximum increase of 10-cents per gallon from August 1st through April 30th, providing peace of mind throughout the winter heating season. With the price cap program you don't have to worry about rising prices but you still get to take advantage of falling prices!
Over the years Excel Propane customers have saved hundreds of dollars by being on the Price Cap Plan. Look for the Price Cap signup to arrive in the mail around the first week of July.
Payment Options
Budget Plan
Enroll in the Budget Plan and enjoy steady monthly payments throughout the year which put an end to large winter bills. Give us a call and we can calculate what your monthly payment amount would be based on your yearly propane usage.
By participating in the Budget Plan you will always receive a 5 cents per gallon prompt-pay discount on all purchased propane.
An added benefit of enrolling in the budget plan is that customers are automatically signed up for the Price Cap Plan.
We also offer an automatic payment option using a checking or savings account. To sign up for automatic ACH payments use the form below: